My Personal Example of
Creative Retirement Planning
One basic concept that allows you to save on taxes is to create a profitable business from what you're going to be spending time and money on anyway.
What difference that it make?  As an example, if you're in a 30% marginal tax bracket, and you want to spend an extra $1,000 on a vacation or an emergency, you will need to take out over $1,400 to cover the taxes* you have to pay on that $1,000.  If you need a lot more than that, then your withdrawal may even put you in a higher tax bracket.
*I've included a sample calculation below for you numbers people 🙂 .
So in my case, one thing I know I will continue to do, for as long as I can, is travel. Now already being self-employed today, I'm able to use a reasonable part of my car, cell phone, and home office expenses as business expenses. But not my travel!  So starting a part travel time business seems like the obvious solution, but HOW is the key.  I found out the hard way that being a part-time travel agent just wasn't going to work for me, because I wanted a business, not another JOB.  I also didn't want to just "lead groups" because I wanted to be able to travel when and where I wanted.
So I needed to get clear on how I wanted "travel" to fit into my lifestyle to be able to set up the business in a way that allows me that lifestyle.
Now I've "hired" a travel agent who will make my bookings (for a % of the commissions) and I'm developing a referral-fee program to partner up with businesses and not-for-profit organizations so I can use my travel business as a win-win proposition for these organizations.
You might notice that this set-up is not designed to fund my whole retirement needs (because I'm only keeping a small portion of what I can earn).  Rather, it's meant to generate enough profit to maintain a viable business and allow me to write off part of my travel expenses for business.
Two other key factors that are important to have in your business design are:
Setting up your business to generate residual/passive income to allow you to work less in later years: this will allow you to continue to be able to use a profitable business to reduce your taxable income and help avoid claw backs of tax credits and government pension programs.
Possibly creating a business you can sell to take advantage of over $400,000 in tax-free capital gains (the LCGE – Lifetime Capital Gains Exemption): because it would certainly be sweet to a tax-free cash infusion to your retirement savings – again to give you extra money to spend without the drawback of risking claw back.
Another real life example are some people who've created an importing business to support their need to travel and shop!
So think about what you are going to be spending time & money on anyway, and then talk to me about working together to "crunch some numbers" and figure out how you can create a profitable business out of that – to help cover what you need, save on taxes and avoid claw back of government programs.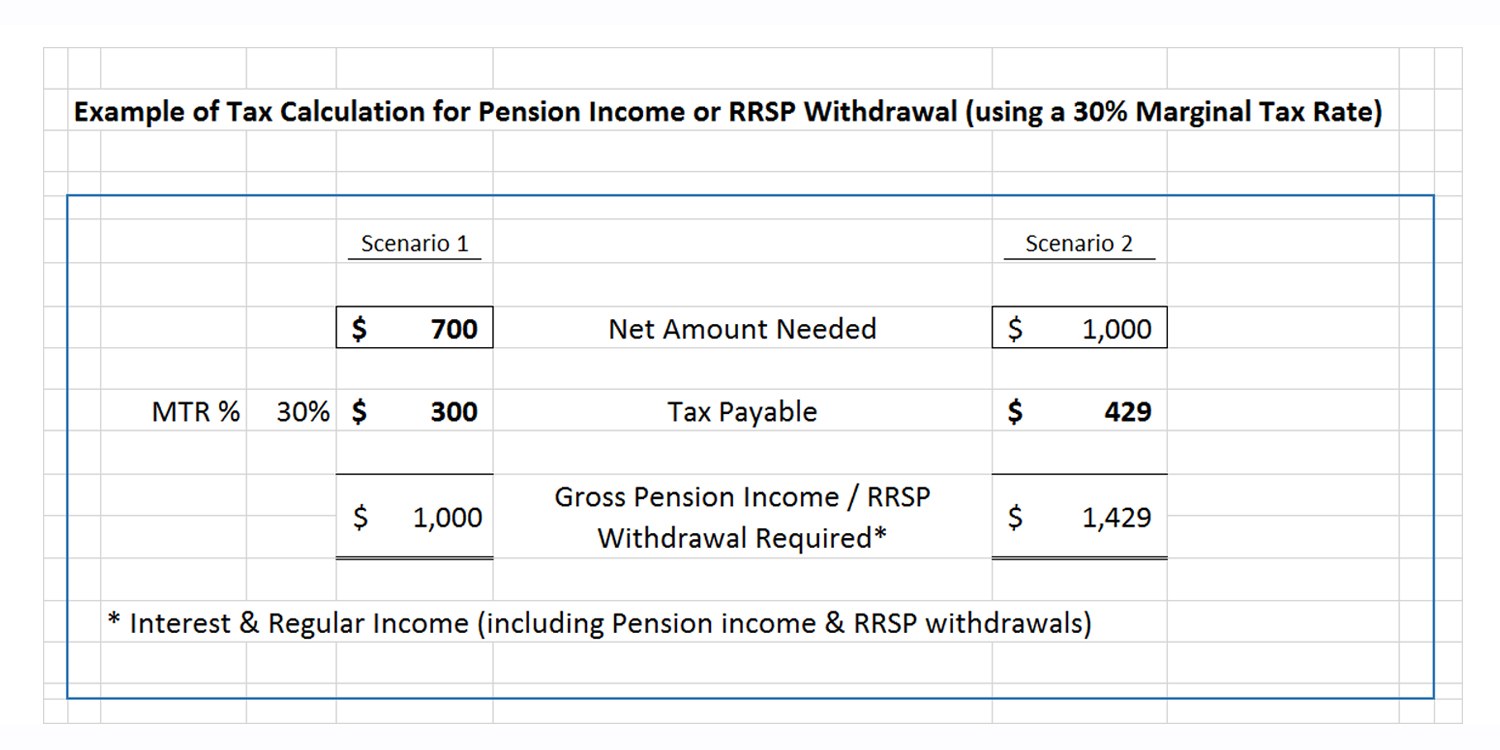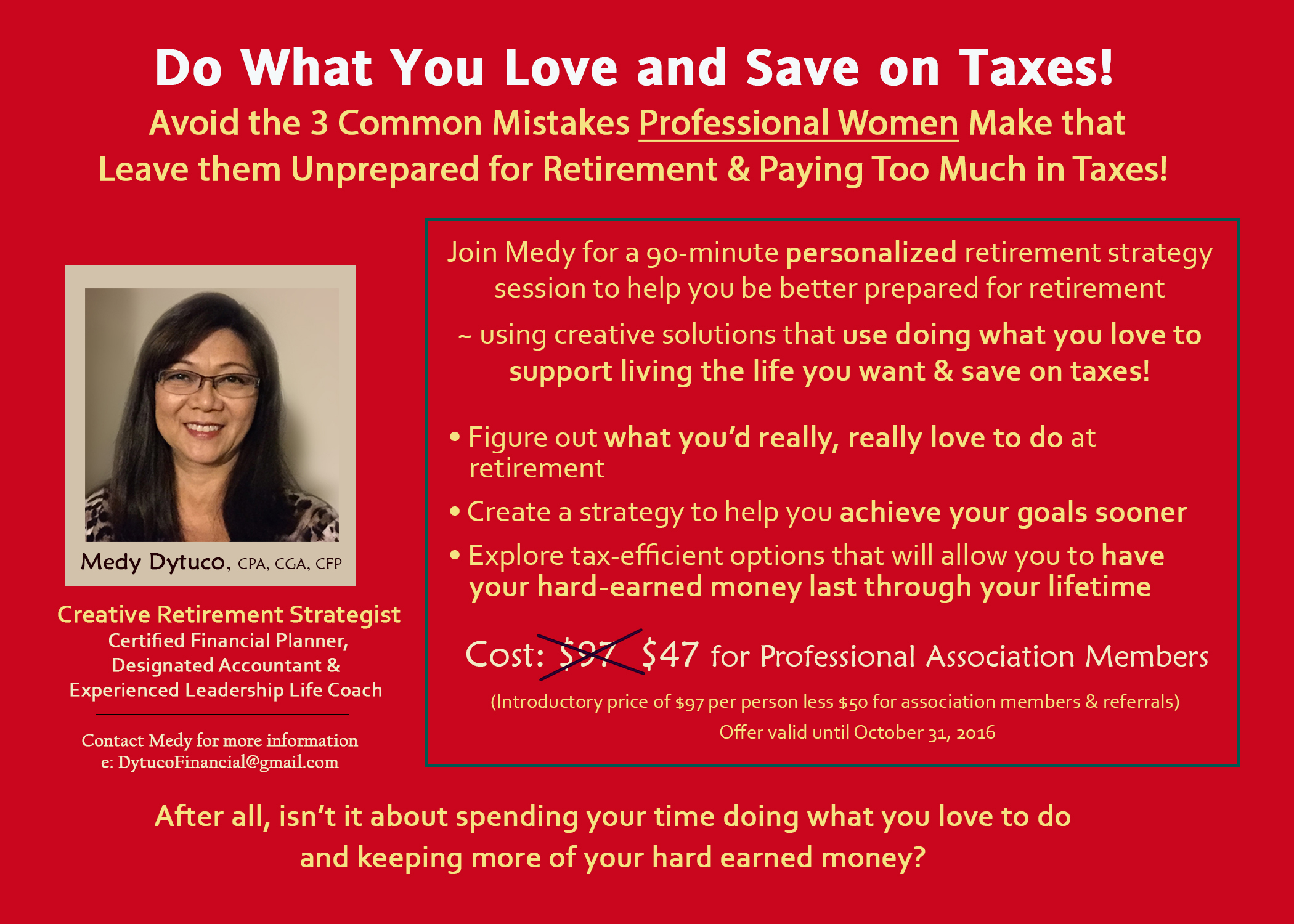 The workshops are personal because the conversation about specific finances needs to be in private. I'm also developing group workshops that cover more of the general concepts of creative retirement planning, then pairing them with a personal confidential consultation to provide you with a specific plan customized for you.
OTHER WORKSHOPS AVAILABLE
Group Workshops

Explore business ideas (doing what you love) to supplement your retirement income

Early retirement workshop for Nurses
For more information on this topic and other areas of financial planning, see the library of articles found in: www.DytucoFinancialServices.com. Also watch out for other upcoming posts on:
Tips on teaching your children about money
Thinking beyond the typical "estate planning box"
Business planning and how to avoid the top 3 mistakes made by start-up entrepreneurs
Please share this with a friend, family member or co-worker who might get value out of this information. Also feel free to contact me for a complimentary review of your financial plan. I can help you look at different & creative strategies to meet your specific needs for covering your risks, reaching your financial goals, and saving for your family & your retirement.